Take control
Restore your health with a variety of treatments and procedures for any gum-related illness
Schedule a Consultation
Periodontics: the treatment of various problems related to the gum and bone that support the teeth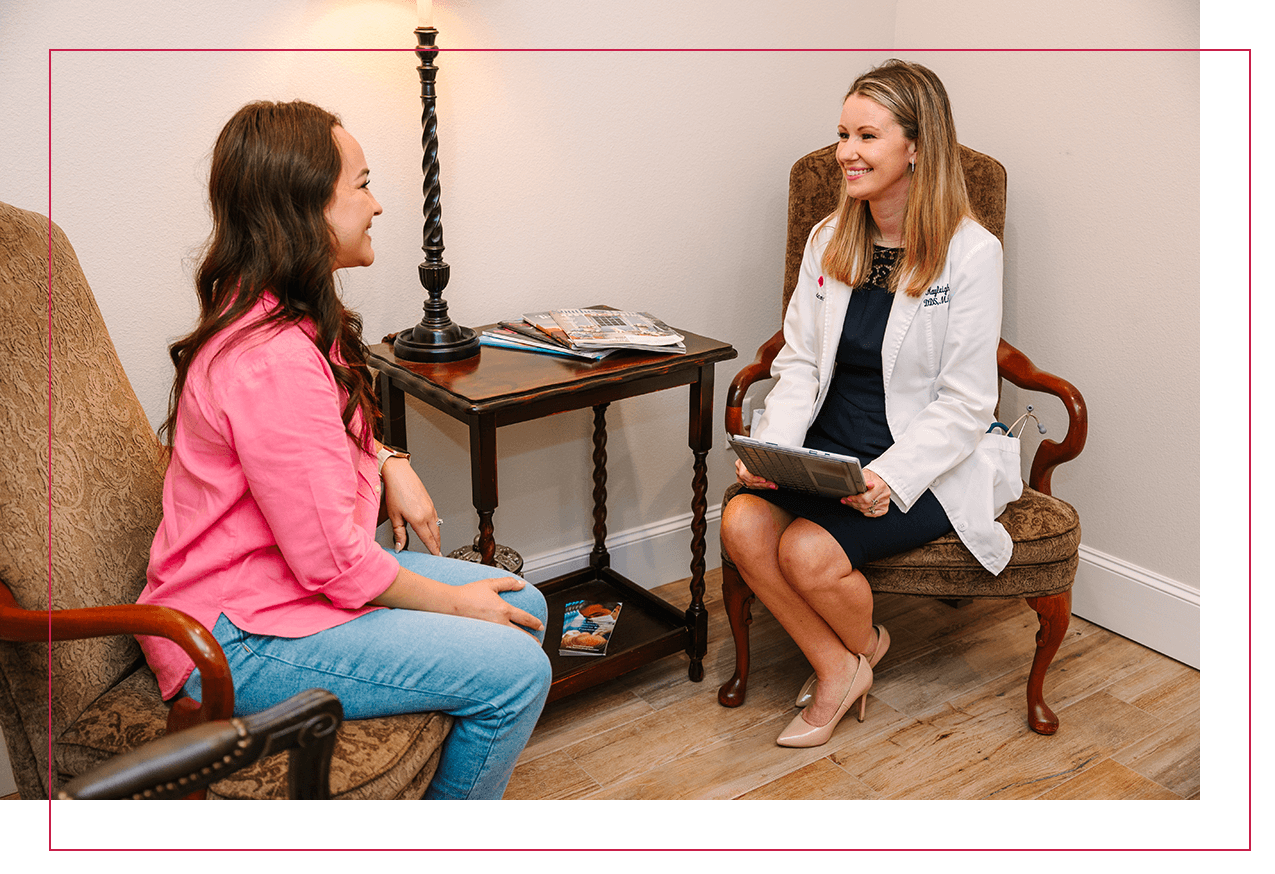 You can overcome your periodontal illness
We've seen firsthand the transformation that's possible when these diseases and more are met with compassionate, strategic care:
Periodontal "Gum" and Peri-Implant Diseases
Gingival Recession (receding gums)
Missing Teeth – Dental Implants
Gummy Smile – Cosmetic Periodontal Therapy
Oral Mucositis (oral rash)
Treatments and Procedures
We continually refine our surgical wisdom and invest our years of experience into the East Texas community so you can have excellent intervention right here at home.
Common treatments and procedures include:
Scaling and Root Planing (Deep Cleaning)
Scaling and root planing is the non-surgical treatment of the gums in order to resolve inflammation and reduce pocketing of the gums around the teeth. Many times, this is the first treatment needed in the management of periodontal disease.
Periodontal Soft Tissue Grafting
Soft tissue grafting is used to treat gingival recession (receding gums) by augmenting the supporting gum tissue and/or repositioning the gumline to recover exposed roots.
Periodontal flap surgery is the reflection of the gums away from the bone, teeth and/or implants, in order to gain access to treat gum disease around teeth and implants. This procedure results in reduction in pocketing and creates a stable foundation for long-term periodontal health and stability.
Dental implants are an excellent option for tooth replacement by simulating a natural tooth.
Bone grafting procedures may be done in addition to periodontal flap surgery to regenerate bone loss due to gum disease around teeth and implants. Bone grafting is also performed for preparation for ideal restorative treatments including dental implants.
Esthetic Crown Lengthening
(The Smile Lift)
Esthetic crown lengthening, or a "Smile Lift" to put it simply, is a periodontal procedure to alter the gumline in order to enhance the esthetics of your smile.
Tooth extractions may be necessary for teeth that are hopelessly damaged or have severe decay. Tooth extraction refers to the removal of the tooth.
Crown Lengthening (Restorative)
Crown Lengthening is the surgical access of the gum and bone supporting a tooth in order to create more tooth structure to facilitate planned restorative treatment, such as a crown or bridge.
Oral Medicine Treatment / Biopsy
Oral medicine is the discipline that is concerned with the clinical diagnosis and management of non-plaque induced medical conditions of the mouth.
Facilitating Orthodontic Therapy
In order to provide ideal orthodontic treatment outcomes, we work with local orthodontists to facilitate ideal treatment.
In order to alleviate your anxiety about dental treatment, we offer multiple options for sedation, including oral and IV methods.
Expect more from Tyler Periodontics:
Partnerships with dentists and orthodontists are valued for your comprehensive care
We offer you our best by staying at the forefront of periodontal advancements
Sedation dentistry is available for your comfort